Archaeologists in Peru announced Tuesday the discovery of the 500-year-old mummified remains of a woman from the pre-Columbian Chancay Culture (1100-1450 AD).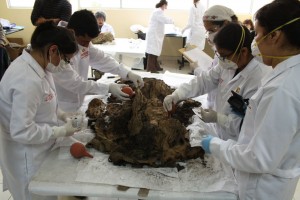 The woman, whose age has yet to be determined, was wrapped in one of the three funerary bundles recently discovered at the Pisquillo-Las Shicras site in the coastal province of Huaral, 90 km north of Lima.
Walter Tosso, who is heading the team of archaeologists excavating at the site, said the woman was likely a member of the culture's more prestigious ranks.
"She was not a simple villager," Tosso was quoted as saying by Peruthisweek.com.
The specialists will work on the funerary bundle, which is wrapped with several layers of fabric, and as well as on two other funerary remains, that were wrapped with fewer fabrics.
The study, specialists said, would provide valuable information about the Chancay, as well as shed light on their burial process. It will be the first time archeologists will carry out this procedure.
There are several Chancay fabrics in museums and collections, but so far there are no details about how the Chancay used them in burials, the regional government said
.