Peru tour guide Tomas Mateo recently returned from his first trip to the Tambopata National Park in Peru's Amazon Rainforest.  He shared some of his thoughts with us.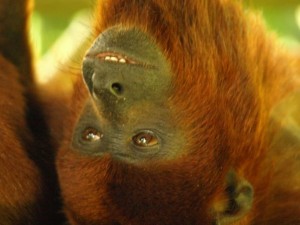 What were your first impressions of the Tambopata National Park?
Tambopata National Park is popular section of the Amazon, especially for travellers who don't want to spend long days travelling.  In comparison to Manu, another popular region, it can take 5 hours or more from town to finally arrive at your lodge.  The takeaway in these cases is often that more travellers end up visiting Tambopata and people may think that it's overcrowded by tourists.  It's true this area of the Amazon Jungle is popular, but it definitely doesn't see the numbers of tourists that a place like Machu Picchu does.
Despite its popularity, Tambopata still feels like authentic Amazon Jungle. For someone short on time, unable to spend a while week in jungle lodges, Tambopata offers travellers a faster way to experience the Amazon, while not sacrificing the chance to see wildlife.
Do you have any tips to share?
As many travellers expect, the Jungle can be an extremely hot and humid place to travel.  Temperatures are generally around 30 degrees Celsius or more.  I think most travellers expect the heat, but often underestimate how cold it can get too.
In order to get from the town of Puerto Maldonado to the Tambopata area, you must travel by motorized canoe, the lodge I visited took us 2 and a half hours to get to.  Once you start cruising along the open river, you may be surprised at just how cool it feels.  If you are dressed prepared for the heat, wearing t-shirts, shorts and sandals, you'll probably be cold, especially after a couple hours of cruising.  For travel by motorized canoe, I recommend you have a light jacket, sweater or something to keep yourself warm.
Evenings in the jungle can also be cool.  Cold fronts can come in from the Andes Mountains, especially during the dry season.  Imagine preparing for 30-degree temperatures and all of a sudden a cold front comes in dropping temperatures to 10 degrees Celsius.  If you only packed summer clothes, you would be in for quite a surprise.  Although these cold fronts don't happen all the time, it's good to pack a sweater and light pants for cool evenings.
What are your "must see" highlights?
"Must see" things tend to depend on the traveller and their personal interests.  For me, the highlight was spending the morning trekking deep into the jungle, making our way to the Lake Condenado. Jungle lakes are rich in wildlife, plant life and birdlife.  We spent the morning hiking into the lake, and upon reaching it, ventured out by canoe.  The sound of the canoe makes very little noise. If travellers stay quiet, it doesn't spook the animals.  Many of the lakes are home to giant river otters, a true highlight if you can spot one.  I spotted a number of different types of birds as well very large group of squirrel monkeys.  This was one of the most memorable parts of my trip and worth the trek to get there.
What else should visitors to the park know?
Many travellers book packages 3 or 4 day packages.  Generally the first and last days are spent travelling and not experiencing the jungle. I went to the Tambopata area on a 2-night 3-day package.  The first day we arrived at our lodge in the evening around 6pm, the last day of the tour I departed at 8 or 9 in the morning.  A 3-day package quickly turns into two days of transport and one day of jungle.  I enjoyed my day in the jungle, and feel the program included a lot, but I was also interested in visiting other areas of Peru.  If you are coming to Peru, and the main thing you want to see is the rainforest, a 3-day package may be too short for you. Consider spending more time and getting the most out of your trip.
Overall, I thoroughly enjoyed my trip to the Amazon Jungle.  Of course next time, I'm likely to be more prepared on what to expect and as a result, will probably enjoy my experience even more.  It's my hope that sharing this experience will help travellers choose and prepare for their Amazon Jungle experience more wisely.
Tomas writes on behalf of Tambo Blanquillo, a family owned Amazon lodge and provider of guided Manu tours.
Tags: amazon, rainforest, tambopata